Learn Spanish Online
Hola, Muy Buenos Dias!
As a former math teacher/tennis coach at international bilingual schools in Colombia, Mexico, Argentina and the Dominican Republic, I remember how difficult it was to converse and ingratiate myself with my fellow co-workers and the locals. Now having visited and/or lived in all but 5 Spanish speaking countries, there were hundreds of moments in the early going where I wished I had a few more tools and knowledge at my disposal to forge an even more enriching experience overseas. So, I did all I could in taking classes, reading the newspaper at coffee shops and never turning down an opportunity to improve in a chat with a local. Looking back, I have countless moments of connection with everyone from my bilingual students to taco venders to little children on the street. This was only made possible when I was able to learn the language, little by little.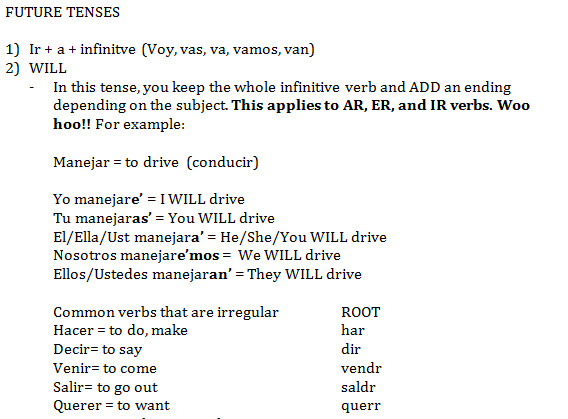 As a current math tutor online, I now in addition offer one, once daily beginning Spanish class to help people who come from the same position I once did with an effective methodology spanning all the basics, grammar, all verb tense conjugations, how to construct sentence no matter the topic and the tools you need to build your vocabulary!
Class Includes:
Free, yes free, non-obligation introductory class (1.5 hours)

24 classes, Mon-Thursday for one hour each for 6 weeks

VERY COMPREHENSIVE CLASS(no additional classes would be necessary from here out). GUARANTEED!

Limited to 4 students (minimum 2) $130.00 per student
TABLE OF CONTENTS
The Toolbelt
To be or not to be(Ser/Estar)
Directly or Indirectly Objecting
ORDER in the CORTO(sentence)!!
The presence of two tenses
Lets talk about the past
Lets talk some more about the past
Review homework? Not homework!!
Whew, the future is bright…. and simple!
The Future is even more simple when you review!!
Don't be so possessive of my nouns
I have a preposition for you
Reflexives aren't very flexible
I have to keep improving
Vamos a tomar un descanso!! A Revisar!!
Conjunction, junction, whats your subjunction
Thought reversal, I like it
I, the professor, order you to command me
Woulda, coulda, shoulda
This that and the other
Can we check something?
Let's connect the pieces
The second to last word. La penultima.
Email me now to learn more or to schedule your free trial! The last word. Chau!